Made in Hong Kong: Paper Cut
Hong Kong paper cutting artist, Percy So, talks to blogger Gillian Chu about all things paper
2011-03-28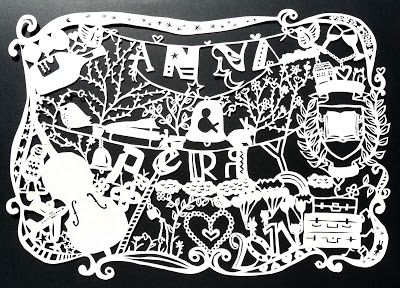 As a girl who grew up with an obsession over origami, it is no surprise that Percy became a Paper Artist. She explains her inspiration and the art of paper below.

What is Paper Art? What tools and materials do you need for it?
Paper art is a craft that involves papermaking, paper cutting, and origami architecture. It dates back to the 6th Century, where the Japanese invented origami. Paper cuttings, which I specialise in, are usually made in stacks of three or four, unless otherwise specified by the one who commissioned the work.
Only simple tools are required for creating Paper Art: paper, cutting knife, and cutting mat. What it really takes is patience and a whole load of imagination.


Tell us about your commissioned work.
My commissioned work tends to be fabricated through in depth knowledge of my clients and the stories behind them. I recently made a paper cutting for my brother Perry's engagement. I made an one-of-a-kind paper cutting for him and his bride-to-be, incorporating various symbols, such as the musical instruments as they both are musically inclined, and the Yale University emblem since that is where they met each other.
My other pieces usually arise from a motivational or romantic quote. On a bad hair day, my friends and I would go to Balalaika for a glass of their Special Lemonade. This cocktail is super strong and is bound to cheer you up from any adversity, so it became my muse for a piece .


Who are you inspired by? What are the difficulties in producing your work?
I look up to Rob Ryan's work. He is a London based artist who incorporates romantic sayings with a melancholy edge into his paper cutting, which is interesting to examine. The sayings he incorporates into his work, along with his calligraphy, is priceless.
I was much inspired by Bovey Lee's exhibition a while back, as her intricate work reflects her bi-cultural experience. Her paper cuttings shadow the Chinese traits with a modern twist to it.
My difficulty in Paper Art is definitely creativity, or rather, the lack of it. Sometimes there are ideas that float around but I don't know what to do with them. What I usually do to get out of a rut is to experiment with new materials and new techniques to generate some sparks.


What is the awareness of Paper Art in Hong Kong? Where can we learn more about it?
Paper Art definitely deserves more love from the general public. Although it isn't prominently featured yet, it is up and coming, and there are already several contemporary Paper Artists in Hong Kong.
If you want to learn more about Paper Art, and create an unique masterpiece yourself, come and join my workshops!