October: Month of Books (Part 3)
Flip- The 3rd Hong Kong Book Art Festival
2017-11-03
Flip- the 3rd Hong Kong Book Art Festival
was held last weekend at the JCCAC. The Hong Kong Book Art Festival is a biennial event, where they hold an exhibition of books and host talks and workshops. The festival is organised and curated by Tiana Wong, showcased a wide range of works from USA, Japan, Australia, Singapore, China, Taiwan and Hong Kong.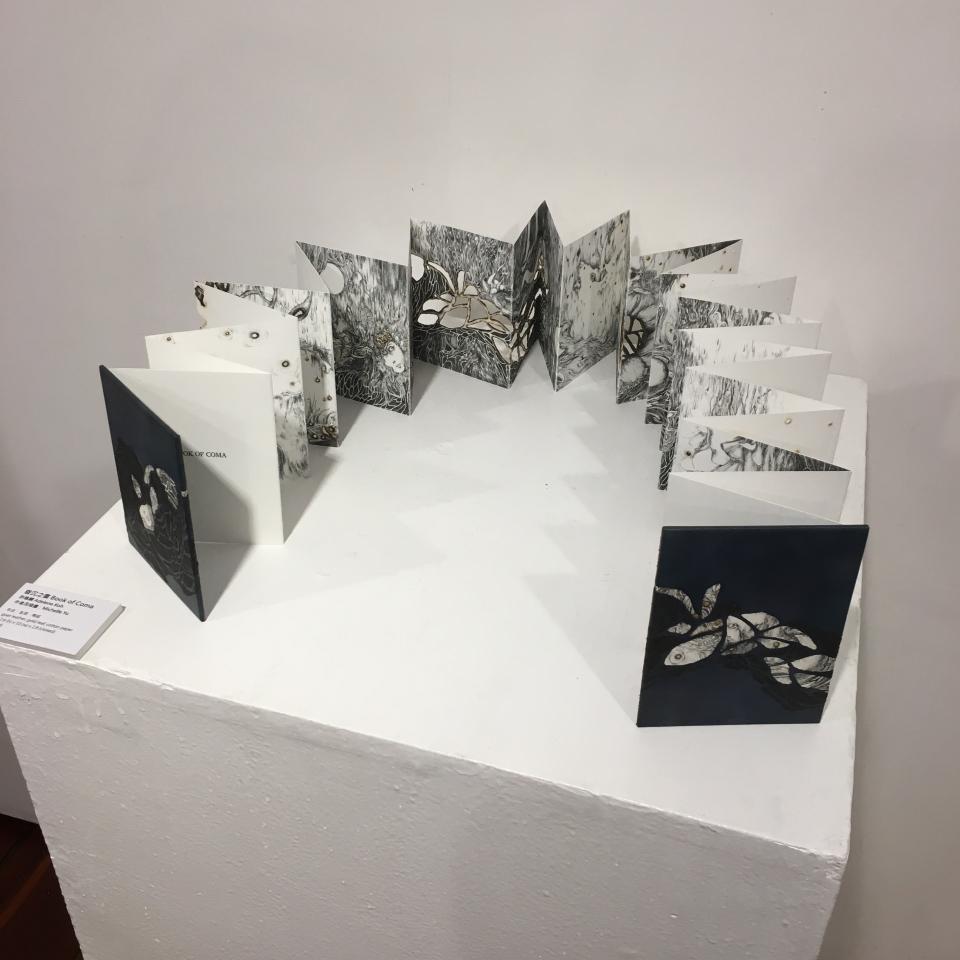 The exhibition space was separated into a four sections, in one of the sections there were a few miniature bookbinding equipment on display. Starting from the left to right is the nipping press, cradle, finishing press, sewing frame and laying press. The nipping press is for applying uniform pressure on the book at different stages of the bookbinding process. The cradle acts as a guide to punch holes in signatures for sewing. The finishing press is to clamp the book in place for the bookbinder to work on the book. The sewing frame is for sewing on support (tapes or cords), it gives the support the correct amount of tension. The laying press is similar to the finishing press acting as a clamp for the book, with different add ons you can back, plough, decorate edges of your book with the laying press.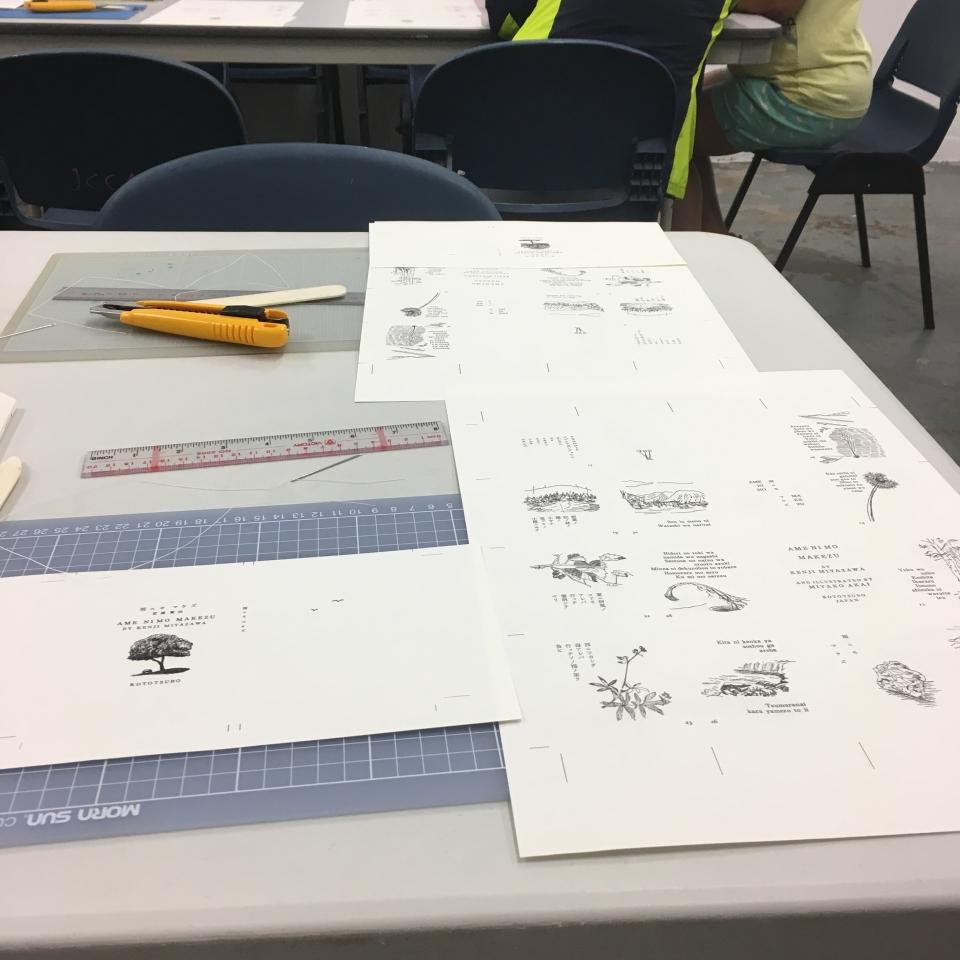 Adelene Koh
, a Singaporean design binder aka my bookbinding nemesis, showed her Book of Coma in the exhibition. With all joking aside it has been really great to get to know her this past month. She is so passionate and driven, the way she talks about the craft and the things that she's experimenting with makes me feel a little embarrassed about how sluggish I've been. I'm so glad to have found a bookbinding friend in her and hope that we can encourage each other to do more to spread the craft.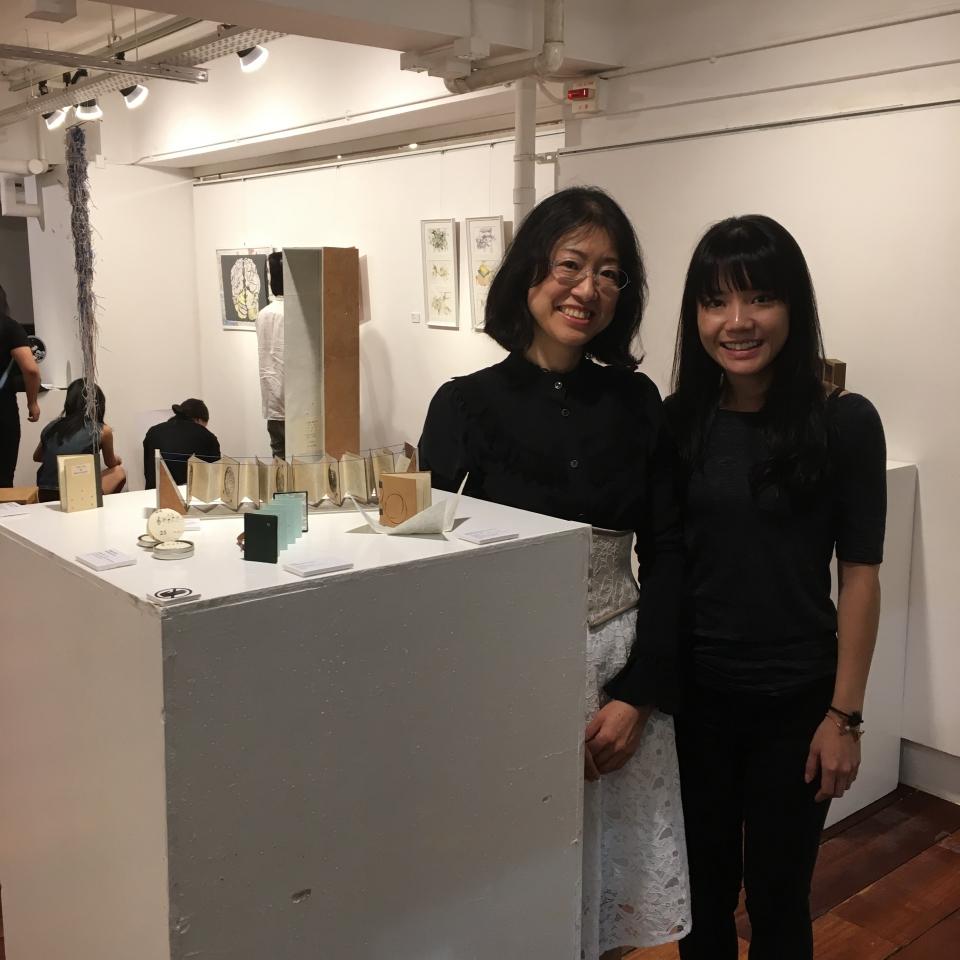 Another highlight of the festival was being able to meet
Miyako Akai
. I've always loved her work, she's a Japanese minature bookbinder, the detail and precision of her work has always fascinated me. I was lucky enough to be able to join her class and it was great to be able to see her work.
We started off the class with two sheets of paper, one for the cover of the book and one with the textblock. Miyako prints her own content using letterpress. I've always struggled to cut my pages out using the guidelines, and finally with this class I learnt how to do it the right way.
It was a fun and simple class where we made a minature book in two hours. The book above is the completed book with a needle threader for a size reference.
Last but not least, my fan girl photo with Miyako and her books! Looking forward to the next Book Art Festival!